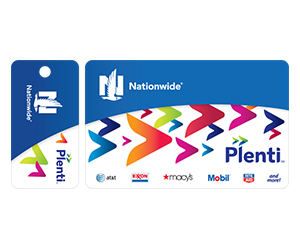 If you haven't heard about Plenti, let me fill you in. It's a relatively new rewards program that functions much like the rewards programs you're familiar with. You purchase products from a retailer, receive points that get linked to your account, and then redeem them for cash or discounts at a future visit. It's a pretty straightforward process.
The cool thing about the Plenti Rewards Program is the fact that, instead of being limited to earning points and redeeming them at one single retailer, Plenti lets you use your point at any of its participating retailers. The Plenti network has over 800 partners — 10 of which are brick-and-mortar locations — and includes clothing stores, supermarkets, online retailers, pharmacies, insurance agencies, gas stations, and anything else you can think of. Some of their partners include:
Macy's
Rite Aid
Exxon and Mobil
AT&T
Nationwide Insurance
Plenti also lets you link your account to eligible store loyalty cards, which will let you earn and redeem Plenti points on items you usually buy at grocery stores and supermarkets. Most participating grocery stores and supermarkets will have exclusive deals available only to Plenti users. These are called Household Offers, and can be accessed through the Plenti mobile app. Offers, which are different from Household Offers in that they're not limited to items found in grocery stores and supermarkets, work much in the same way as Household Offers do, and can be "activated" within the Plenti app.
There's also the Plenti Online Marketplace, Plenti's online shopping experience that allows users to earn points when they purchase items from the hundreds of online retailers that make up the marketplace. Accessing the Online Marketplace from the Plenti website will link users out to their chosen retailer's website, where their purchases will earn Plenti points. Online retailers will often also have Plenti-exclusive deals and promotions for Plenti users.
Earning and redeeming Plenti points is very simple. For every 100 points you earn, you'll get $1.00 credited to your account to redeem. You can start redeeming points as soon as you have 200 points in your balance. Certain promotions will offer more points than others, which is why it is important to keep an eye on the app for the best deals on the items you need and use.
The best part about Plenti is that it is absolutely free to sign up and use. There are no fees whatsoever associated with Plenti.
Click here for more information about the Plenti Rewards Program. Click here to sign up today and start saving on your purchases and earning points.