Twin Pack only. Coupon expires 2/14/17.
Excludes Red Zone, Wild, Fresher, High Endurance, Classic and trial. Expires 2/06/17.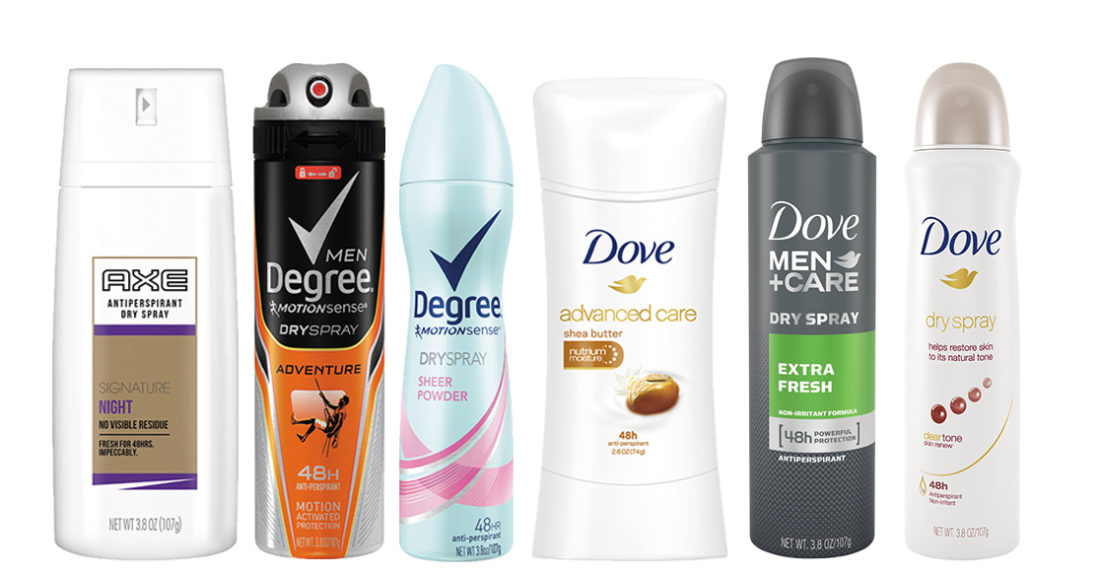 Walmart is offering a great deal on its antiperspirants and deodorants this week. We've got a roundup of some of the best deals right here, each under $1. Make sure to take advantage of them while you can.
Axe White Label Night Dry Spray Antiperspirant, 3.8 oz, $5.47
• Submit a rebate on Ibotta for $5.25/1 Axe Dry Spy
Final Price: $.22
Degree Men Dry Spray Antiperspirant, 3.8 oz, $4.97
• Submit a rebate on Ibotta for $4.75/1 Degree Men Dry Spray Antiperspirant
Final Price: $.22
Degree MotionSense Sheer Powder Dry Spray Anti-Perspirant, 3.8 oz, $4.97
• Submit a rebate on Ibotta for $4.75/1 Degree Women Dry Spray Antiperspirant
Final Price: $.22
Dove Advanced Care Antiperspirant Deodorant, 2.6 oz, $4.88
• Use one coupon for $1.00/1 Dove Advanced Care Antiperspirant/Deodorant product, available from dove.us
• Submit a rebate on Mobisave for $1.50/1 Dove Advanced Care Antiperspirant
• Submit a rebate on Ibotta for $1.50/1 Dove Women's Deodorant
• Submit a rebate on Checkouts51 for $2.00/1 Dove Advanced Care Antiperspirant
Final Price: Free, plus $1.12 in earnings
Dove Men+Care Dry Spray Clean Comfort Antiperspirant, 3.8 oz, $5.47
• Price match to Walmart.com price of $5.37
• Submit a rebate on Ibotta for $5.25/1 Dove Men Care Dry Spray, 3.8 oz
Final Price: $.12
Dove Women's Dry Spray Clear Tone Skin Renew Antiperspirant, 3.8 oz, $5.47
• Price match to Walmart.com price of $5.23
• Submit a rebate on Ibotta for $5.25/1 Dove Women's Dry Spray, 3.8 oz bottle
Final Price: Free, plus $.02 in earnings